Aktienrecht Kommentar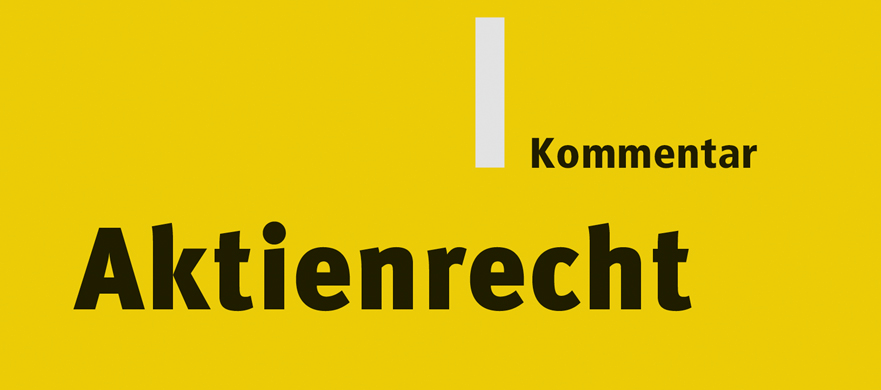 New book on Swiss stock corporate law at a 20 percent discount to members, offered by Jeannette Wibmer, Founding Member of the Association, Dr. iur., LL.M. (LSE), lawyer, partner with Badertscher Attorneys at Law in Zurich. Jeannette is listed as an IPO consultant with SIX Swiss Exchange and acts as jury member and expert for the "VENTURE" entrepreneurship competition of ETH Zurich. For 20 years, Jeannette is specializing in the field of business and corporate law.
Book title: Aktienrecht Kommentar
Book subtitle: Aktiengesellschaft, Rechnungslegungsrecht, VegüV, GeBüV, VASR
Publisher: Orell Füssli Verlag AG
Language: German
Format: Hardcover, 13.5 x 18.0 cm, 877 pages
Abstract: Ein Kommentar aus der Praxis für die Praxis: Das handliche Werk kommentiert sämtliche Bestimmungen zur Aktiengesellschaft, zur kaufmännischen Buchführung und Rechnungslegung und die gesamte Verordnung gegen übermässige Vergütungen bei börsenkotierten Aktiengesellschaften (VegüV). Alle 15 Autorinnen und Autoren verfügen über langjährige Erfahrung in grösseren Wirtschaftskanzleien und verstehen es, sämtliche relevanten Fragestellungen praxisnah zu analysieren. Resultat ist ein verständlicher, konziser, aber dennoch wissenschaftlich fundierter Kurzkommentar. Für den gesamten Überblick sind im Anhang ausserdem die Geschäftsbücherverordnung und die VASR abgedruckt. Zahlreiche Darstellungen und ein ausführliches Stichwortverzeichnis ermöglichen überdies einen ausgesprochen raschen Zugang zum Werk. Ab sofort gehört dieser Kommentar auf jeden Schreibtisch und in jede Aktentasche von Unternehmensrechtlern und Verwaltungsräten in der Schweiz.
Log in as a member to order the book at the members' discount.