The London Dragons at the 2018 Races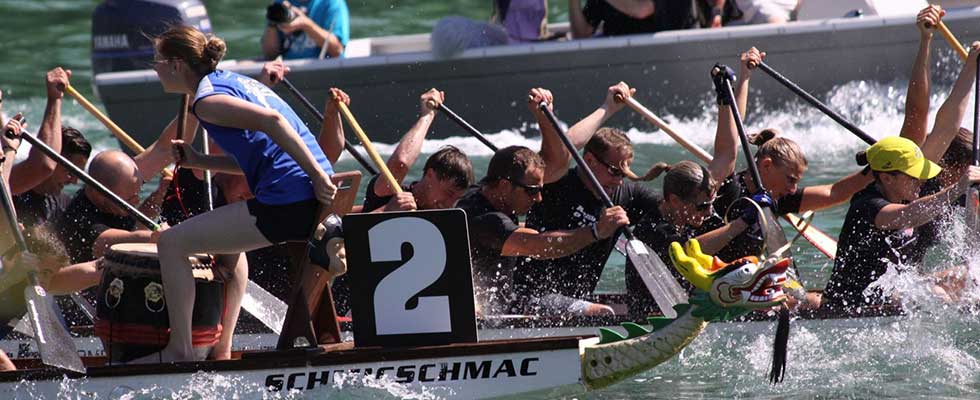 | | | |
| --- | --- | --- |
| Saturday/Sunday, 23/24 June 2018 | Eglisau | Entire days |
| | |
| --- | --- |
| Alumnae and Alumni Sports | PAYG |
Our boat is always recruiting paddlers of all abilities for various races throughout the year. We field mixed crews of female and male paddlers in recreational race categories and always have free spots. Camaraderie, fitness and fun are our aims. Never have paddled before in a dragon boat? No problem, you will be instructed. The London Dragons would be delighted to welcome you as our newest recruit.
Dragon boat racing is one of the few team sports, which can be enjoyed by almost everyone without extensive training. Members of teams in past races have included people of various age groups, from newly minted alums to seasoned professionals, wanting to do something, which they have never done before. It's not without reason, why dragon boat racing has become worldwide the fastest growing team sport in the past few years. It is an engaging and fun activity with weighty historical background, which can be enjoyed with family and friends on and off the water.
Dragon boat races have been held on the river Rhine by Eglisau, on the river Limmat by Zurich and on the Lac de Joux in the Jura Mountains for decades. The Eglisau races, in which the team participates, is the oldest annual dragon boat competition in Europe. The Zurich races, held every 3 years, are part of the largest folk festival in Switzerland. With our participation in the Lac de Joux races, we aid cancer research and clinical treatment.
The boat is, without the dragon's head and tail, 11.5 meters long and, at its widest point, 1.2 meters wide. It is powered forward by up to 20 paddlers with a drummer sitting in the bow and a steerer standing in the rear. The boat is made up of a hull composed of a laminate of fiberglass, reinforced with plywood inlays along the keelson and gunnels. Each fiberglass seat bulkhead is bonded in place at three anchor points which provides superb rigidity to the hull. Closed-cell foam fills the bulkheads to ensure positive buoyancy. Western maple, eastern red oak and mahogany are integrated into the design for their specific abilities and for their visual appeal. Glues are waterproof epoxies. Wood surfaces are sealed with five coats of high grade marine varnish.